Orthodontic emergencies can be rare, but rest assured, we're here to provide the assistance you need should they occur. In the event of a true orthodontic emergency, please reach out to our office promptly. If you're experiencing severe pain or have an appliance issue that you're unable to resolve on your own, we'll schedule an appointment to address the situation and get you the care you need. However, while waiting for your appointment, there are some steps you can take to alleviate discomfort or temporarily address certain issues.
---
General soreness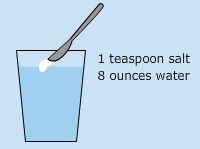 It's common to experience general discomfort in your mouth and teeth for the first three to five days after getting braces. During this time, sticking to a soft diet will help prevent any further discomfort while chewing. Gently rinsing your mouth with a warm salt-water mouthwash can soothe irritated gums and other sensitive areas. If the discomfort is severe, you can take Acetaminophen (Tylenol) or your preferred pain reliever. However, please avoid using aspirin, ibuprofen (Motrin, Advil), or naproxen sodium (Naprosyn, Anaprox) on a regular basis, as they can affect tooth movement while wearing braces.
Also for one to two weeks, you may experience irritation on your lips, cheeks, and tongue as they adapt to the surface of the braces. Applying wax to the braces can help alleviate this discomfort, and we'll provide guidance on how to do it properly.
Headgear/Facemask Discomfort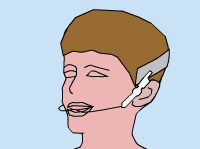 Wearing headgear as directed by your orthodontist is crucial to your treatment progress. In the event that the facebow (metal piece) becomes bent, please contact our office for assistance. Wearing the headgear for the recommended number of hours each day should gradually reduce any discomfort, not the other way around.
Loose bracket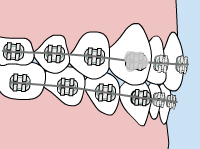 If you have a loose bracket or band that is still connected to the wire, try to keep it in place. You can use wax to cover it if necessary for comfort. If the bracket or band can be easily removed, place it in an envelope and bring it with you to your next visit.
Loose wire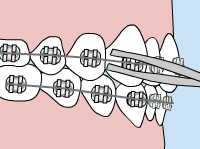 If a wire becomes loose, you can attempt to reposition it using tweezers or needle-nosed pliers. Alternatively, you can use dental floss to tie the wire into place by wrapping it around the bracket where the colored o-ring is missing. If you're unable to comfortably adjust the wire or covering the end with wax doesn't provide relief, you can use a small nail clipper as a last resort to carefully snip the wire behind the final tooth to which it is securely attached. Remember to apply wax to any sharp wire ends.
Poking wire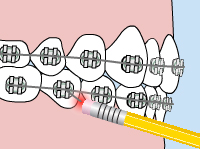 To address a poking wire, you can gently push it down using the eraser end of a pencil or cover it with wax to prevent further irritation.
Remember, in any orthodontic emergency, it's essential to contact our office promptly. We're here to support you and ensure your orthodontic journey continues smoothly.