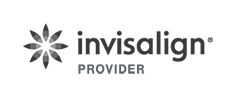 Phase One Treatment with Invisalign First
Invisalign First clear aligner treatment is a Phase One treatment for youngsters who are still developing. It straightens the teeth while also widening the arches and creating space for current and future permanent teeth.
Invisalign First's Phase One treatment may be used to:
Correct and guide the growth of your child's jaw
Regulate the width of the upper and lower arches
Create more space for crowded teeth
Avoid the need for permanent tooth extractions during Phase Two treatment
Correct thumb sucking and help improve minor speech problems
Invisalign First Treatment
Initial Scans
Invisalign First treatment starts with a simple scan or impressions. Every phase of your child's plan is then digitally planned so you know exactly what to anticipate.
The Aligners
Removable aligners ensure that your child's life and favorite meals are not disrupted. Furthermore, the aligners are made to suit smaller teeth and have enough room to accommodate teeth that are coming in.
Smart Shifts
You'll watch their smile change as they proceed through treatment, thanks to a series of subtle, skillfully crafted changes that are calculated for how little teeth should move.
Why Invisalign First?
Types of Treatment: Crowding, spacing, and narrow dental arches are just a few of the difficulties that clear Invisalign First aligners may help with.
No Food Restrictions: There's no need to miss out on movie popcorn with Invisalign First transparent aligners. Children are free to consume anything they want.
Easy Hygiene: Brushing and flossing may be done without difficulty by growing youngsters, allowing them to maintain their excellent hygiene practices.
Proven Experience: Your youngster will be in good company if they have Invisalign treatment. More than 5 million smiles have been altered by Invisalign technology throughout the globe.
Make a little smile into a huge, lovely one. Speak with one of our doctors about Invisalign First now.
Invisalign and the Invisalign logo, among others, are trademarks of Align Technology, Inc., and are registered in the U.S. and other countries.