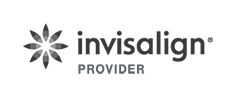 A clear path to a beautiful smile
If you're looking for a clear, efficient, and convenient way to straighten your teeth, Invisalign® treatment may be the right choice for you. Invisalign aligners are a series of clear, removable trays that are custom-made to fit your teeth. They're worn for 20-22 hours per day, and they gradually move your teeth into the desired position.
Why Invisalign treatment?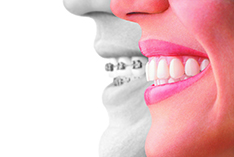 Faster Treatment: With Invisalign, you can speed up your journey to a stunning smile by switching aligners every week. Plus, depending on your progress, we might even extend the duration between aligner modifications, especially for our more experienced patients.
Proven Results: We've got the science to back it up! Invisalign's SmartTrack® material and SmartForce® features have been scientifically proven to enhance tooth movement control. So you can trust that you're in good hands.
Better Fit: Invisalign's SmartTrack aligners are designed to fit your teeth like a glove. They're so comfortable to wear and effortless to put on and take off, you'll forget you're even wearing them.
Effective Treatment: Invisalign can tackle a wide range of dental issues, from crossbites and crowding to open bites, gapped teeth, overbites, and underbites.
Virtually Invisible: Say goodbye to bulky metal braces. Invisalign's clear aligners are practically invisible, meaning you can confidently rock your treatment without anyone even noticing.
Comfort at its Best: Invisalign's transparent aligner trays are not only smooth and gentle on your gums, but they're also removable. That means you can continue your usual routine of brushing, flossing, and enjoying your favorite foods without any hassle.
Convenient Schedule: We understand life can get busy, so we've made Invisalign treatment as convenient as possible. With visits to our clinic required only every six weeks, it fits seamlessly into your hectic schedule.
So why settle for anything less than the best? Choose Invisalign and let us transform your smile into something truly extraordinary.
The Invisalign Treatment Process
Once upon a time, there was a guy named Joe who dreamed of having a straight and confident smile. He had heard about Invisalign treatment and was curious to learn more. So, Joe decided to embark on an exciting orthodontic journey with OAKLAND Ortho, and here's how it unfolded:
Chapter 1: Joe's First Consultation
Joe stepped into our orthodontic office with a mix of excitement and curiosity. During his complimentary consultation, our friendly team took the time to understand his orthodontic needs and determine if Invisalign was the perfect fit for him. Joe felt at ease knowing that his smile was in good hands.
Chapter 2: Crafting Joe's Custom Treatment Plan
To kickstart Joe's Invisalign adventure, we utilized state-of-the-art technology like the iTero® digital scanner. With this magical device, we captured precise 3D digital images of Joe's teeth, allowing us to create a custom treatment plan. Joe was amazed as we showed him a virtual preview of how his teeth would shift and transform over time. The journey to his dream smile was becoming a reality.
Chapter 3: Introducing Joe to Invisalign Clear Aligners
With his custom treatment plan in place, it was time for Joe to meet his trusty companions—Invisalign clear aligners. These aligners, made from Invisalign's exclusive SmartTrack® material, were virtually invisible and comfortable to wear. Joe felt relieved knowing that he could confidently straighten his teeth without drawing unnecessary attention.
Chapter 4: Joe's Progress and Check-ups
As Joe faithfully wore each set of aligners, his teeth gradually started moving into their desired positions. We advised Joe to switch to a new set of aligners every week to ensure steady progress. Additionally, we scheduled regular check-ups every six weeks to track Joe's journey, address any concerns, and make necessary adjustments. Joe loved seeing his smile transform before his eyes.
Chapter 5: Cherishing Joe's New Smile
After completing his Invisalign treatment, Joe's smile was more radiant than ever before. We recommended he consider using Vivera® retainers, which would help maintain his newly achieved smile for the long term. Joe left our office with a sense of pride and confidence, ready to showcase his remarkable smile to the world.
Joe's Invisalign story is just one of the many success stories we witness every day. If you're inspired by Joe's journey or want to explore your own smile transformation, we're here to guide you every step of the way. Together, let's create a story that ends with the perfect smile—one that leaves a lasting impression and fills you with joy.
Invisalign and the Invisalign logo, among others, are trademarks of Align Technology, Inc., and are registered in the U.S. and other countries.