How Often Should You Brush?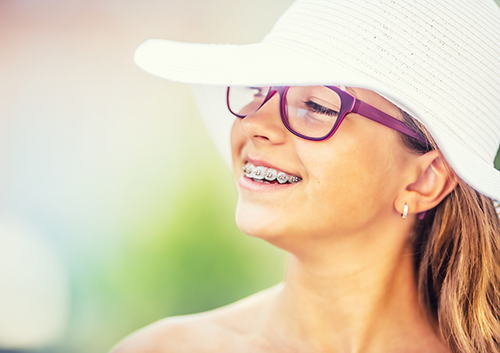 If you've been following your dentist's advice, you know that you should be devoting two minutes twice a day to gentle, thorough brushing, and floss carefully at least once a day. It's automatic. It's habit. You're in the zone. Now that you have braces or aligners, though, it's time to step up your game!
Removing Food Particles
No one wants to worry about food particles stuck in braces right after lunch—or, worse, noticed hours after lunch! Because food tends to stick around brackets and wires, Dr. Archana Dhawan and our Troy team recommend brushing after a meal. Not only will you be confident in your smile, you'll be improving your dental health.
But why?
Better Plaque Removal
Plaque is a sticky film containing acid-producing bacteria. These acids lead to weakened enamel and, eventually, cavities. Careful brushing with a fluoride toothpaste helps eliminate plaque. But as you may have discovered, it can be more difficult to clean around brackets and wires. Brushing after eating will help keep plaque from forming on your enamel, and using the right tools (floss made for braces and interproximal brushes) will help clean plaque more effectively.
But what about aligners?
If you wear clear aligners, you take them out when you eat. This avoids the problem of food particles trapped in brackets and difficulty brushing around wires. But this doesn't mean you are home free. Brushing after every meal is also a good idea when you wear aligners.
Our teeth have an organic way to help remove food particles, acids, and bacteria between brushings—saliva! Your aligners, while covering your teeth, decrease their exposure to saliva. It's really important, then, to make sure you brush after eating. Otherwise, food particles and acids can remain on your teeth after you replace your aligners, increasing the risk of enamel erosion and decay.
Brushing helps keep your aligners clear as well. If you notice aligner discoloration, this could be the result of food residue such as tomato sauce or coffee that remained on the teeth after a meal. Anything that stains your enamel can stain your aligners. And don't forget about plaque. Plaque can stick not only to your enamel but to your aligners as well. If you notice that your aligners are cloudy, or have an unpleasant odor, talk to us about the best way to keep them their cleanest.
Make a Plan
So, what can you do to make brushing more convenient during a busy day? Be prepared! Keep a small kit with you containing a travel brush, a small tube of toothpaste, floss, and an interproximal brush for quick cleanings when you're out and about, and you'll never have to worry about your smile.
Of course, there are occasions when it's just not possible to brush. At times like this, whether you have traditional braces or aligners, it's a good idea to rinse well with water after meals or snacks, and brush as soon as you can.
Start your new dental routine now, and soon it will be automatic. An everyday habit. Your new comfort zone. After all, taking a few extra minutes from your day to brush after every meal will be well worth it when you end your orthodontic treatment with a smile that is as healthy as it is beautiful!
Tags:
Posted in Uncategorized