New Ligatures? Some Things to Consider When You Choose Your Hues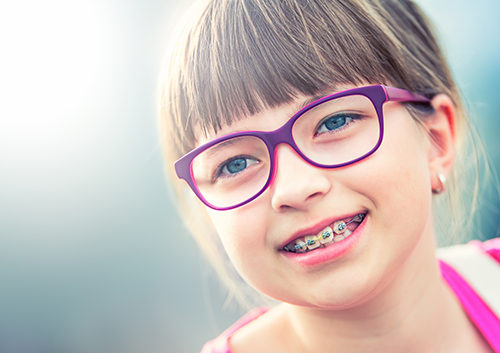 Colorful elastic ligatures (the official name for those tiny bands around your brackets) are often replaced when you come in to have your braces adjusted. Which is great! Now you have the opportunity to go with your team colors, or your school colors, or tones that work with your skin and eyes, or shades that represent your favorite holiday season. Today's bands come in a wide variety of colors, so you never need to worry about becoming bored with your choices.
But are there certain hues that can be a bit more challenging to work with. Let's look at some of those trickier tones.
If you don't want kind friends constantly informing you that you have something stuck in your teeth, you might want to leave certain colors off your list. Dark greens and browns can sometimes give the appearance of food trapped in your braces. Have a look at the shades available, and see what is least likely to send you running for a mirror and a toothbrush.
A blazing white band might seem like a good match to your blazing white teeth, but for many people, really light colors can make teeth look more yellow. And often bands in shades of yellow can bring out any yellow in your enamel. If you're looking for a brighter smile, try some darker, richer tones for a gleaming contrast.
You're So Over the Rainbow
If you are someone who loves a monochromatic look, perhaps any colors will be, well, just too colorful. In that case, there are ligatures for you! Silver or grey braces will blend with your metal brackets, and clear or tooth-colored bands will be less obvious with metal or ceramic brackets. Light colored bands can be more prone to staining, so keep that in mind if you're going for invisibility or a close bracket match.
Now with all that being said, you be you! If you like a color, give it a go. It might be the perfect accessory for your smile and your personality. And, if it doesn't work . . . no big deal! You can explore another part of the color palette on your very next adjustment to our Troy office.
Tags:
Posted in Uncategorized