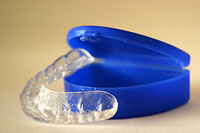 When eating, take your retainer out and always put it back in its case! (The majority of appliances are misplaced in school cafeterias or restaurants).
Using a toothbrush and toothpaste, clean the retainer well once a day. Warm, but not hot, water should be used. Plaque is removed and smells are eliminated by brushing retainers. Cleaning your orthodontic appliances with Efferdent® or other orthodontic appliance cleansers is an option, but it is not a replacement for brushing.
When your retainer isn't in your mouth, keep it in its case at all times. Chewing on them is a pet's favorite pastime!
It may be tough for you to talk at first. To get acclimated to it quicker, practice speaking, reading, or singing out loud.
Retainers are fragile, so handle them with care. If your retainer is misplaced or damaged, please contact us right away.
Call us if you have any questions or concerns regarding your retainer, or if you think it needs to be adjusted. Do not attempt to change it on your own.
Always remember to bring your retainer with you to your appointments.
Replacement retainers are costly, but with careful attention, they may last several years!
When you go swimming, take your retainer out and put it in its case.
Maintain a safe distance between your retainer and hot water, heated vehicle dashboards, pockets, the washing machine, and napkins.