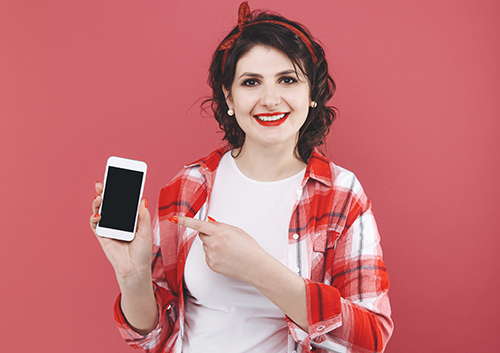 Modern orthodontic technology has led to major changes in the world of braces. Brackets are smaller and come in both metal and ceramic materials. Wires are more efficient and more comfortable. Elastic bands come in a variety of vivid colors, or you can choose brackets which work without bands. You can even decide on clear aligners, with no brackets or wires at all.
And since modern software technology has given us a program for just about everything, it's no surprise that you can install apps to help make your modern orthodontic treatment more convenient and more enjoyable. What can an orthodontic app do for you?
Keep Track of Your Appointments
There are many apps out there that are designed to help you keep your treatment on track with appointment reminders. This sounds pretty basic, but when you have school, work, sports, and activities filling your days, it doesn't hurt to get a timely reminder that our Troy office will be expecting you in the near future. And, since missed appointments delay your progress, you are making sure you achieve your beautiful, healthy smile in the shortest amount of time.
You know how important it is to keep track of the hours you wear your aligners. Apps can help remove the guesswork with a timer to make sure you've got the hours you need to progress to the next phase of treatment. Apps can also remind you when you're ready for a new aligner, and let you track your progress in one convenient place with selfies after each aligner transition. After all, it's really exciting to see just how far you've come.
If you wear traditional braces, there are apps with very helpful reminders for you, too. For example, forgetting to wear your elastics can really delay your progress. An app can let you know when it's time to wear your rubber bands and keep track of your hours. It can also remind you to replace your bands regularly, because elastics become less elastic through the day. And take advantage of the countdown feature some apps offer to see just when you can expect to be done with your treatment when you keep on top of your routine.
Brushing and Flossing? Apply Yourself!
A big part of making your smile look its best after your orthodontic treatment is making sure you take care of your smile during your treatment. This means keeping up with daily brushing and flossing, and using proper technique. Two minutes brushing, twice each day, and flossing at least once a day are the basic recommendations for preventing cavities and gum disease. (During orthodontic treatment, you might need to increase your brushing and flossing—ask us how often is best for your needs.)
And to help you make sure you get a solid two minutes of brushing twice a day? Try an app that plays two minutes of your favorite music with a perfectly timed brushing playlist. Apps can also send you brushing and flossing reminders, let you know when it's time to change your toothbrush (every three months, please!), and give you tips on better brushing and flossing techniques.
Have Fun with Your Appearance
Not sure just how you'll look in braces? Get a preview with an app that uses one of your selfies to model different types and styles of braces, brackets, bands, and aligners. Metal brackets? Ceramic? Elastic bands in your favorite colors? No bands at all? Hardly visible aligners? Find the look that works for you!
Some apps will even guide you through common orthodontic problems, such as applying wax to an irritating bracket or relieving discomfort. Always remember, though, an app is not an orthodontist. If you have a serious problem or concern, call us immediately.
If you've checked out the orthodontic apps available for your operating system, you know that there are a lot of options out there. If you're looking for an app providing information about your treatment, tips for dealing with your braces, or a convenient way to track your progress or even be part of a community, you want the best information, tips, and conveniences possible—and hopefully all in one place.
To help you find the best orthodontic app for you, talk to Dr. Archana Dhawan! We might know just the app for your specific needs. Whether you choose aligners or brackets and wires, consider all the wireless options that can make your life easier, your dental care more complete, and—just maybe—your orthodontic experience a little more fun.
Tags:
Posted in Uncategorized