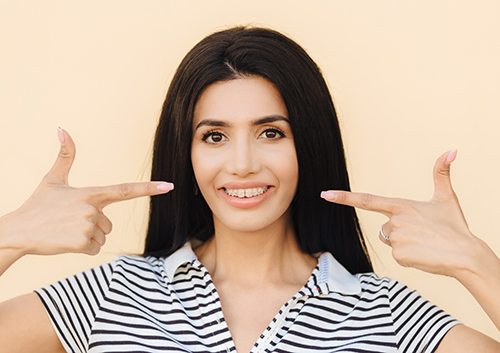 The topic is tubes. No, we're not talking about TV shows, or sports socks, or British subway systems. We're talking toothpaste! With so many options out there, which toothpaste should you be looking for to keep your teeth their cleanest and healthiest during orthodontic treatment?
The last thing you want while you're wearing braces is a cavity. Cavities develop when plaque sticks to a tooth. The oral bacteria found in plaque produce acids that weaken your enamel. Over time, these acid attacks lead to the breakdown of the enamel and a cavity forms. But you have a way to stop this process. Fluoride provides protection against cavities. Fluoride toothpastes contain minerals that actually strengthen your enamel, and can even repair early damage before a cavity has a chance to form. Whichever toothpaste you choose, fluoride is the most important ingredient.
What is tartar, anyway? Tartar, or calculus, is hardened plaque. It's so hard, it can't be removed by brushing alone—that's why your dental hygienist uses special tools to remove it when you have a cleaning. Tartar buildup can lead to receding gums and gum disease, so prevent this buildup before it starts by using a toothpaste especially formulated to remove plaque.
There are many causes for tooth sensitivity. If painful sensitivity is caused by hot or cold drinks, it could mean a dental issue such as decay or a damaged tooth, and your dentist can help diagnose and treat the problem. Sensitivity be a sign that you're not cleaning around your braces well enough, leading to sore and inflamed gums. Sometimes sensitivity can actually be caused by over-enthusiastic brushing. Remember, massage, don't scrub! For some extra-sensitive teeth, a desensitizing toothpaste or even a prescription toothpaste can help. If you find that your teeth are more sensitive only after an adjustment, give us a call. This is usually temporary.
Whitening toothpastes do a good job of taking care of some surface stains, so why not use them? Because they take care of some surface stains. When your braces are in place, your brackets cover a small portion of your enamel—a portion that won't be whitened as you brush. Generally, because whitening toothpastes don't make a huge difference in tooth color, this might not be a problem. Talk to Dr. Archana Dhawan before you decide to whiten, and we'll have suggestions just for you.
In fact, if you have any questions about the best toothpastes for orthodontic patients, contact our Troy office! Getting your braces is a great step forward on your way to a beautiful smile. Let us help you choose the right toothpaste to make sure that beautiful smile is a healthy and lasting one.
Tags:
Posted in Uncategorized