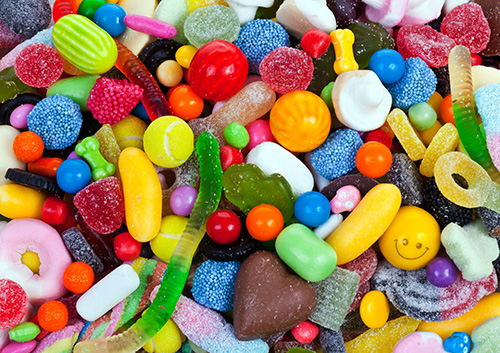 Most kids love candy; actually, most people in general love candy. So when it comes time for you to get braces there can often be a natural conflict between candy consumption and maintaining the integrity of your braces. For that reason, Dr. Archana Dhawan and our team know that it's good to know which types of candy are not good for your braces. To better illustrate, here are some candies that you will want to avoid.
Caramel
Caramel is a sweet and often exceedingly sticky and chewy type of candy that just does not mix well with braces. Caramel can cause a mess in regular teeth, but teeth with braces are a whole other story. The sticky candy can very easily get lodged and stuck between the teeth, gums, and braces, making for a difficult task of cleaning your mouth. And if your teeth don't get cleaned properly, cavities can easily form. If you get cavities while you have braces, that could mean additional appointments at our Troy office and an extended treatment time.
Salt Water Taffy
Another sticky and chewy candy to avoid with braces is salt water taffy. For many of the same reasons as caramel, it is best to avoid taffy until you get your braces removed. It may be a long wait, but when it comes to the health of your teeth, and the purpose of your braces, it really is best to avoid taffy.
Popcorn
Popcorn of any kind is best to avoid when you have braces. The kernels can easily do damage to the braces as you chomp on them, and they can get stuck between your teeth and the braces causing discomfort and further complications. In this sense it does not matter which flavor of candy popcorn you eat, all popcorn is bad news until you get your braces off.
Generally speaking, any candy that is chewy, crunchy, or sticky is not a good idea to eat with braces in your mouth. These types of candy will make life wearing braces much more difficult than if you were to just wait until your braces come off. With a little patience you will be back to eating all your favorite candy again, and with straightened teeth at that.
Tags:
Posted in Uncategorized